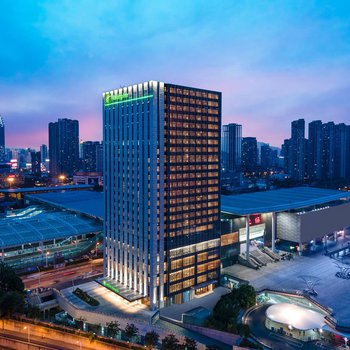 Holiday Inn Wuxi Central Station is located in the Wuxi Transportation Hub complex, just adjacent to the city's business district and leisure zone. The Hub serves both the intercity high-speed railway and long-distance bus station, as well as Metro Line 1, Metro Line 3 and three bus platforms serving local transportation. You'll find getting around Wuxi is easy, allowing you to visit many attractive cultural and scenic spots while enjoying a relaxing business trip to the Yangtze River Delta.
The hotel offers 284 new generation, stylishly designed rooms that include multifunctional amenities such as a comfortable folding sofa bed, mobile desk with chair and a "Smile Mirror." Invitingly warm, each room brings complete balance to both work and rest, providing for today's energetic, blended lifestyles. Additionally available, we offer Family Room options and our Holiday Inn "Kids eat, stay and play" program for you to enjoy.
Guests can savor delicious Chinese and International cuisine at Hi Bowl All Day Dining Restaurant. For a more intimate dining experience, we have 5 elegant Chinese Private Dining Rooms. And when you're in the mood for a refreshing drink, ā Relax Lobby Lounge is just the spot. For meeting and event's needs, we offer a grand ballroom with LED screen and 7 additional meeting rooms of varying sizes.
Whether traveling for business or pleasure, Holiday Inn Wuxi Central Station is the wonderful choice in Wuxi.